Gloves are included! Parking, childcare, onsite showers and more!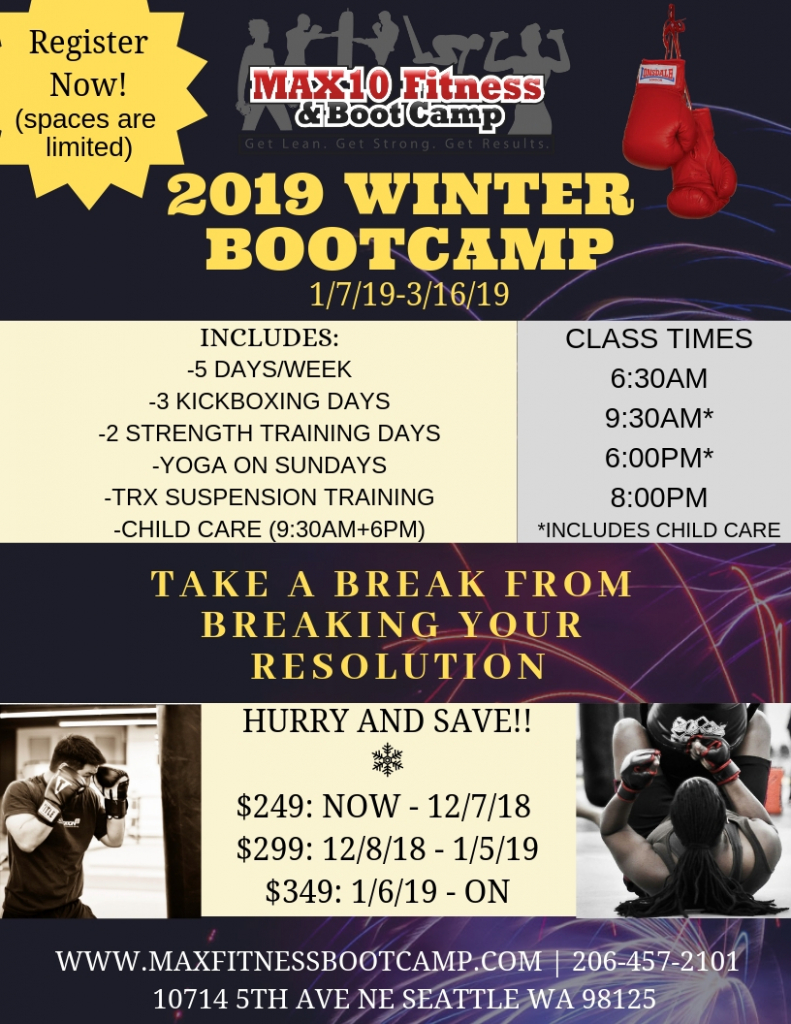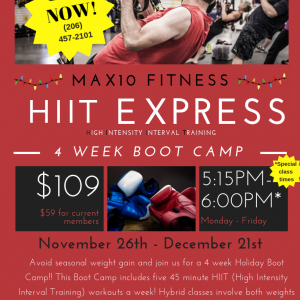 November 26th, 2018 – December 21st, 2018 
When you 

have fun

 working out it won't feel like work!
North Seattle / Northgate!  Avoid seasonal weight gain this year and join MAX Fitness for a 4 week HIIT boot camp featuring calorie shredding workouts with metabolic and HIIT (high intensity interval) training using TRX, weights, kickboxing and more!

Time:  
Mon, Wed, Fri: 5:15 to 6:00pm
 Each class will be a 45 minute HIIT workout
The 45 minute 'express' classes allow you to 'get in and get out' quickly while getting the same benefits of a much longer class.
Special bonus! 
FREE childcare care will be provided for children 6 months of age or older.
Idea: 
Moms and Dad's with kids between the ages of 4-11 might also want to consider training 'together'.  We have classes occurring simultaneously for 7-11 year old's on Mon/Wed and 4-6 year old's on Tue/Thu.
Price:
Non member
$109- Pre-Registration (Now – Nov. 25th) *
$119- Registration (Nov 26th – On)
MKG Current Member (does not include boot campers)
$59- Pre-Registration (Now – Nov. 25th) *
$69- Registration (Nov 26th – On)
Don't wait! These prices won't last and sessions DO SELL OUT.
* Terms & Conditions: Online only. While supplies last. Must be used for Nov 26th – Dec 21st Boot Camp. No refunds. Can be gifted to a friend.
/**/