This delicious dinner is light enough to serve for lunch, or could even go to a potluck with you! The bonus is that this midweek meal is quick and easy, perfect for when you're not in the mood to cook much but still want to eat healthy.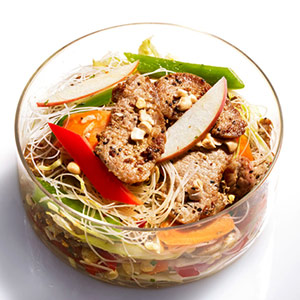 Thai Pork Salad
Makes: 4 servings
Prep time: 15 minutes
Cook time: 10 minutes
Ingredients
4 ounces thin rice noodles
1/4 cup lime juice
2 tablespoons fish sauce
2 tablespoons brown sugar
1/2 teaspoon Asian chili sauce
1/2 teaspoon salt
1/4 cup loosely packed basil leaves, chopped
1/4 cup loosely packed mint leaves, chopped
1 pound pork tenderloin, cut into thin 3-inch-long strips
4 cups shredded cabbage
2 apples, cored and thinly sliced
1 cup shredded carrots
1 red bell pepper, thinly sliced
1 green bell pepper, thinly sliced
1 tablespoon sesame oil
1/4 cup cashews, coarsely chopped
Directions
1. Bring a pot of water to boil; add the noodles and boil until cooked, about 3 minutes; drain.
2. In a bowl, whisk together the lime juice, fish sauce, sugar, chili sauce, salt, and half the basil and mint. Toss the pork strips with 2 tablespoons of the dressing; set aside.
3. Combine the noodles, cabbage, apples, carrots, and red and green peppers in a large serving bowl. Toss with remaining dressing, basil, and mint.
4. Heat the sesame oil in a large nonstick skillet over medium-high heat. Add pork and cook, stirring, until just cooked through, about 5 minutes. Toss with the cabbage mixture and divide among four plates. Top each serving with 1 tablespoon cashews.
Nutrition facts per serving: 422 calories, 29g protein, 54g carbohydrate, 10g fat (2.1g saturated), 7g fiber